Your source for fire apparatus refurbishment
(because if NFPA 1912 was a test, we'd ace it.)
---
---
JUST LIKE NEW — CUSTOM FIRE TRUCK REFURBISHING
---
Many fire departments turn to SVI Refurb to keep their fleets running like new. Rather than scrapping a tired apparatus, SVI Refurb has helped countless departments across the nation (as far away as Maryland) extend the life of their most valuable trucks, for a third of the cost it takes to buy new, and all thanks to our long list of fire apparatus refurbishment services and manufacturing capabilities (laser cutting, CNC machining, powder coating and in-house painting). Whether your department is operating on a limited budget or truck refurbishing is part of your fleet replacement strategy, SVI Refurb is here to help tackle your refurb while navigating NFPA 1912 standards.
---
among our refurbishment services: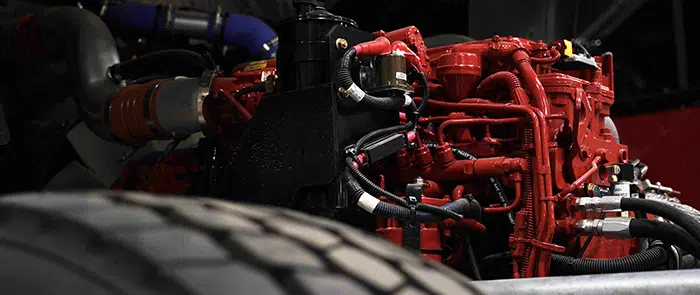 CHASSIS REPAIR, REFURB and UPGRADES
Got rust? Turn to SVI Refurb's corrosion removal services, which includes chassis sandblasting, followed by a two-part epoxy coating to protect the refurbed chassis from the elements. As part for our cab and chassis refurb services, we also can replace suspension components, like airbags, brakes, drivetrains, springs and steering. SVI Refurb also offers a number of chassis upgrades, including PTO or generator integration, front bumper extension, bedliner bumper coating and the addition of InstaChains, hitches, receivers and hydraulic reels.
FIRE TRUCK CHASSIS REMOUNTS
AND ENGINE REBUILDS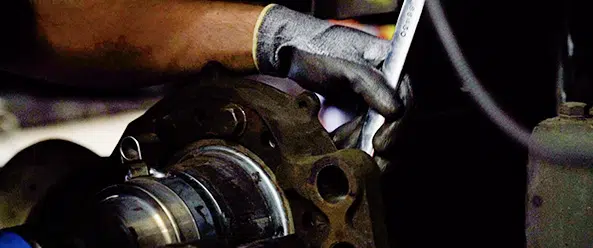 BODY REPAIR, REFURB AND UPGRADES
SVI Refurb can troubleshoot electrical issues and tackle the toughest body collision repairs, offering complete door repair, panel replacement and body fabrication, while topping off our list of body refurbishment services with paint, graphics and Aluminum Tread Brite polishing. We can make the body even more functional, offering pump repairs (or replacement) as well as a long list of body upgrades, like compressors, Cascade fill stations, piston-assisted hosebed covers and custom tool mounting configurations.
FIRE PUMP REPAIR AND UPGRADES
In addition to pump repairs, SVI Refurb offers a number of pump upgrades. Manual valves can be upgraded to electric-actuated valves to conserve space and simplify operation, followed by panel label updates. We also can upgrade incandescent panel lights to LED for brightness and energy efficiency, and we are the only refurb company in the region to convert high-pressure hoses from 1 inch to large-diameter 4 inches for the ultimate in LDH manifold upgrade to increase water volume over greater distances.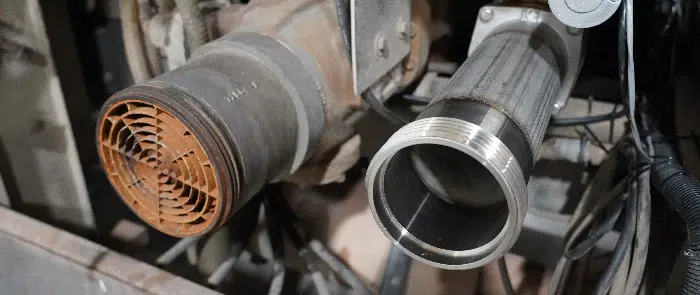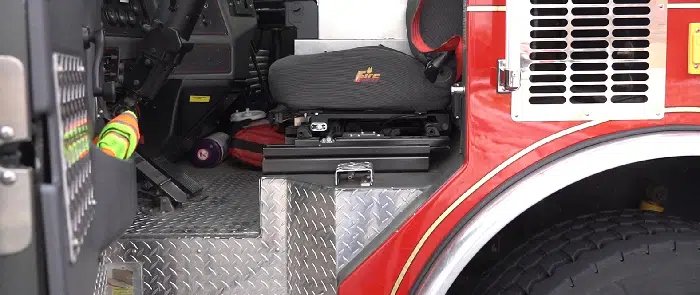 FIRE TRUCK INTERIOR UPGRADES
Breathe new life into your cab's interior. Not only can SVI reupholster seat cushions, we can replace seatbelts to meet NFPA 14.3.13 standards, or update seating entirely. We also can bring floor up to NFPA standards, replacing vinyl floormats with NFPA-approved treadplate flooring. Upgrade your cab lights, intercom systems, electrical switches and door hardware with SVI's help or add an Opticom transmitter to communicate temporary right-of-way at intersections. Finally, re-organize your cab with custom consoles, cabinetry, lockboxes and refrigerators.
UPDATE LIGHTING AND RETROFIT TOWERS
From warning lights to scene lighting, SVI Refurb can help you update your lighting to the latest LED fixtures — both inside and out. We offer a full list of lighting upgrades and can even help you retrofit your used tower from halogen quartz to LED fixtures. Not only do we partner with the best brands for new lights, but we offer a versatile inventory of used light towers, or we can retrofit existing quartz halogen towers to LED. Learn more about our lighting services >
FIRE TRUCK PAINTING SERVICES
SVI Refurb offers fire truck painting services, utilizing PPG's Delfleet® Evolution paint, available in 3,600 metallic- and solid-color choices, or SVI can match your fleet's existing paint, complete with spray-out samples. We top everything off with our finishing and detailing services.
Your refurbished truck isn't complete without shiny, new graphics. Our SVI Graphics team specializes in custom door decals, fire truck chevrons, fleet vehicle rebranding and more. Unlike local graphic shops, our 3M-cerfied team is knowledgeable in NFPA graphics standards.
KEY NFPA STANDARDS FOR INTERIOR REFURBISHMENT
---
Below, we've highlighted a handful of NFPA refurbishing standards that you may want to take into consideration as you plan your fire apparatus refurbishment, most notably new seat belt standards that were added to reduce fire apparatus fatalities caused when crews failed to wear their seat belts. These standards help identify when seat belts are not being properly used. Additionally, standards were created to ensure gear, like helmets, are properly stored in the cab to prevent injury.
---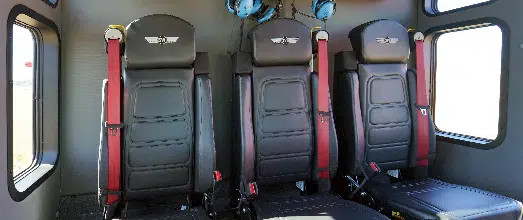 14.1.3.3 SEAT BELT COLOR

The seat belt webbing shall be bright red or bright orange in color …

14.1.3.9.1 SEAT BELT WARNING SYSTEM

The warning system shall consist of an audible warning device that can be heard at all seating positions designed to be occupied while the vehicle is in motion …

14.1.3 SEAT BELT LENGTH

Each crew riding position shall be provided with a seat and an approved seat belt designed to accommodate a person with and without heavy clothing. (This standard further details the exact seat belt lengths, accounting for the average size of today's fully dressed firefighter.)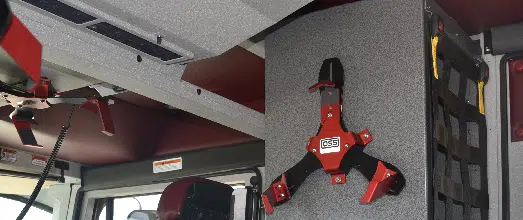 14.1.7.4 IN-CAB FIRE HELMET USE

Fire helmets shall not be worn by persons riding in enclosed driving and crew areas. Fire helmets are not designed for crash protection and they will interfere with the protection provided by head rests …

14.1.10.2 HELMET CONTAINMENT

If helmets are to be stored in the driving or crew compartment, the helmets shall be secured in compliance with 14.1.10.2: All equipment not required to be used during an emergency response, with the exception of SCBA units, shall not be mounted in a driving or crew area unless it is contained in a fully enclosed and latched compartment capable of containing the contents when a 9 g force is applied in the longitudinal axis of the vehicle or a 3 g force is applied in any other direction, or the equipment is mounted in a bracket(s) that can contain the equipment.