Keep your engine's fire pump and water tank in working condition with SVI Refurb.
---
SEALS, GAUGES, VALVES AND TANKS,
SVI refurb CAN REPAIR OR REPLACE IT ALL
---
As one of the industry's go-to fire truck repair centers, SVI Refurb offers a number of services to keep your fire engine's pump and water tank in working condition, including:
FIRE PUMP/TANK REPAIR, REFURB OR REPLACEMENT:
Pump seal repair
Frozen gauge repair
Gauge replacement
Valve rebuilds (transfer valves, relief valves, pump valves and drain valves)
Cracked tank repair (or replacement)
FIRE PUMP/TANK UPGRADES:
Upgrade manual valves to electric-actuated valves to conserve space and simplify operation
Upgrade incandescent panel lights to LED for brightness and energy efficiency
Upgrade LDH manifolds, converting high-pressure hoses from 1 inch to large-diameter 4-inch to increase water volume over greater distances
Upgrade tanks to G3 or UPF Poly tanks and add foam system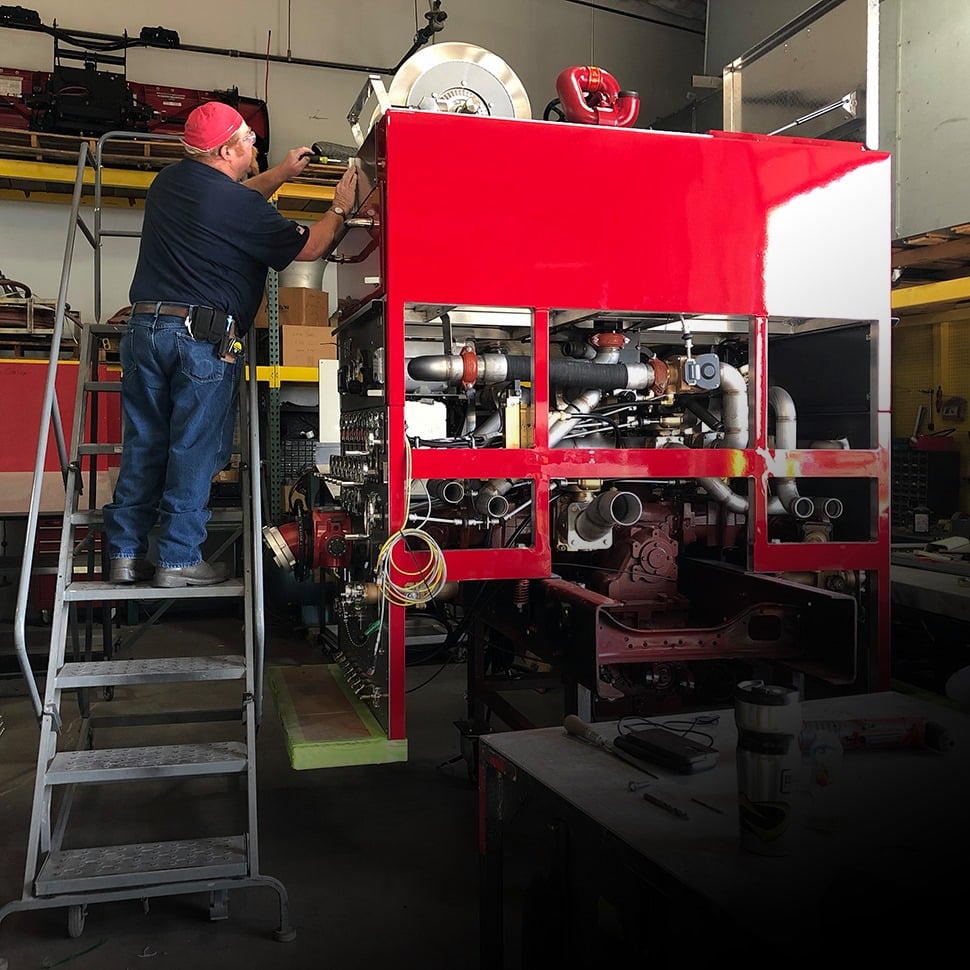 AFTER YOUR REPAIR OR UPGRADE, SVI REFURB BACKS IT WITH FIRE PUMP TESTING: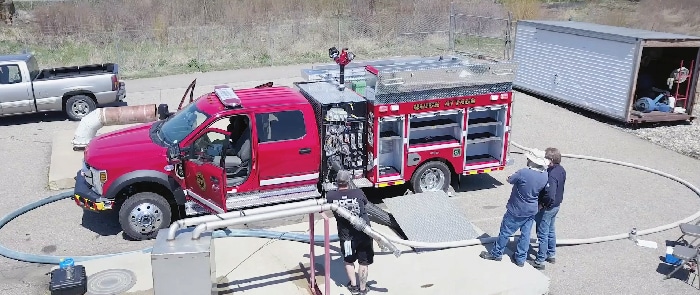 One of the nation's leading fire engine pump testing companies, SVI Refurb performs NFPA 25 fire pump testing services and certification at a state-of-the-art testing facility in Loveland, Colo. SVI Refurb can test the volume, pressure and vacuum of your pump. The testing facility features two tanks and a test pit with 20,000 gallons of water. Pressure gauges and water volume pitots are calibrated every six months to ensure accurate test results.
KEY NFPA STANDARD CHANGES FOR FIRE ENGINES
---
NFPA 1912 refurbishing guidelines reference NFPA 1901 standards, and these constantly evolving standards have likely changes since putting your apparatus into service. Among the recent revisions, the NFPA highlights the following pump requirement changes:
CHAPTER 16 FIRE PUMPS AND ASSOCIATED EQUIPMENT

The chapter on industrial supply pumps [rated more than 3,000 gpm (12,000 L/min)] was integrated with the chapter on fire pumps [rated 3,000 gpm (12,000 L/min) or less], and differences in requirements based on rated capacity were spelled out. Moreover, a requirement was added for testing the accuracy of the gauges and flowmeters during pump certification testing, as indicated in the next standard.
16.2.4.1 PUMP SUNCTION CAPABILITY

The pump manufacturer shall certify that the fire pump is capable of pumping 100 percent of rated capacity at 150 psi (1,000 kPa) net pump pressure for pumps rated at less than 3,000 gpm (12,000 L/min) or at 100 psi (700 kPa) for pumps rated at 3,000 gpm (12,000 L/min) or greater from draft through 20 ft (6 m) of hose …
CHAPTER 27 ULTRA-HIGH PRESSURE FIRE PUMPS AND ASSOCIATED EQUIPMENT

The newest NFPA 1901 standards includes a new chapter on ultra-high pressure (UHP) fire pumps and associated equipment due to the increased use of UHP fire pumps. This edition provides guidance on pump performance [1,100 ps (7,600 kPa) or greater], pump control requirements and engine speed advancement interlock test standards.
REQUEST REPAIR / REPLACEMENT of your pump or tank