Increase safety and improve response time with the latest in LED lighting.
With the help of SVI Refurb, repair or upgrade your dated fire truck lights.
---
---
SHED SOME LIGHT ON YOUR REFURB
WITH UPDATED FIRE TRUCK LIGHTS
---
With the advent of LED fire truck lights, many departments opt to upgrade their old fire truck lights to new LED light bars, scene lights, light towers, cargo lights and more. These upgrades can dramatically decrease vehicle electrical problems, like high idle, load shedding, dead batteries and alternator issues, when departments replace their energy-sucking halogens with new LEDs. At SVI Refurb, we're here to help you source and tackle these upgrades. Not only do we partner with the best brands for new lights, but we offer a versatile inventory of used light towers, or we can retrofit existing quartz halogen towers to LED. UPGRADE WITH NEW LED FIRE TRUCK LIGHTS
We partner with brands like Whelen, Firetech, Command Light, OnScene Solutions and Fire Research Corp., to bring you some of the best options in LED fire truck lights to upgrade your: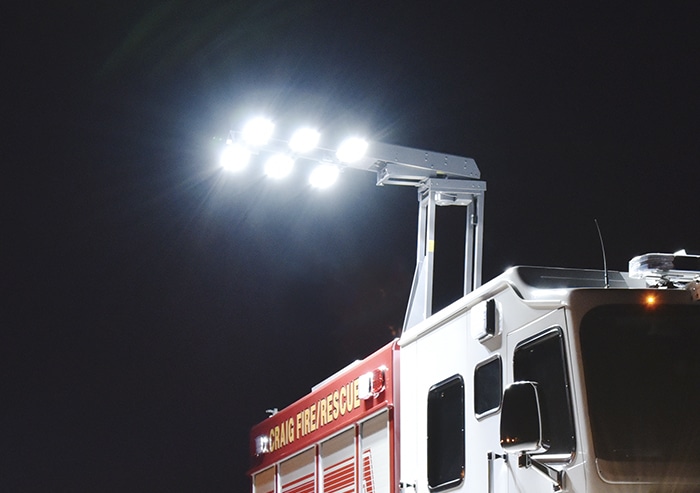 FIRE TRUCK SCENE LIGHTS
WARNING LIGHTS AND TRAFFIC ADVISORS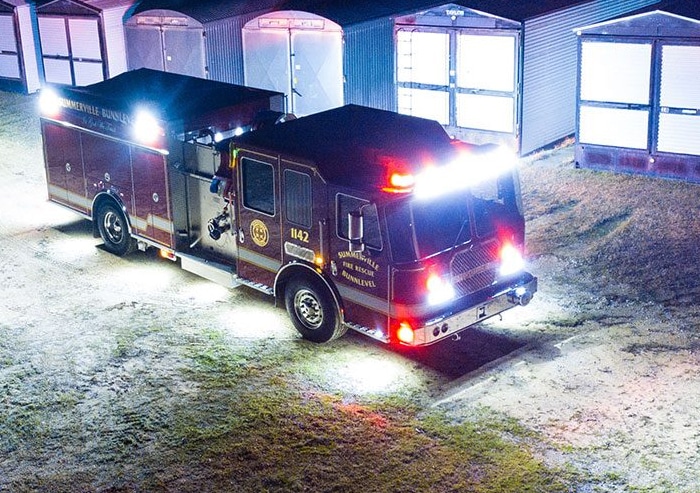 BEACONS AND FIRE TRUCK BARS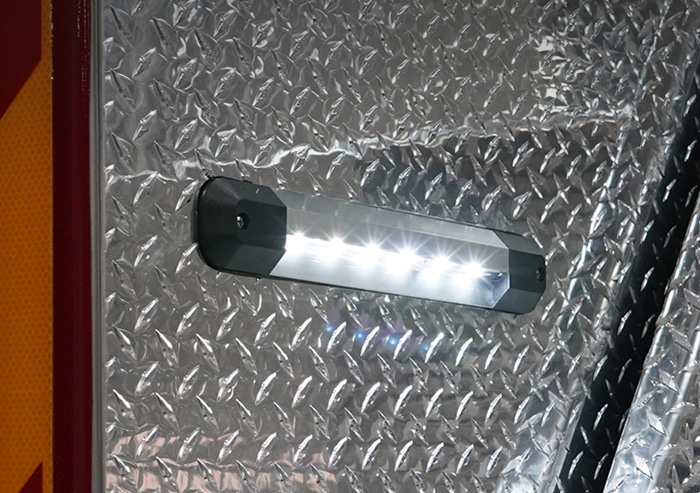 GROUND AND SURFACE LIGHTING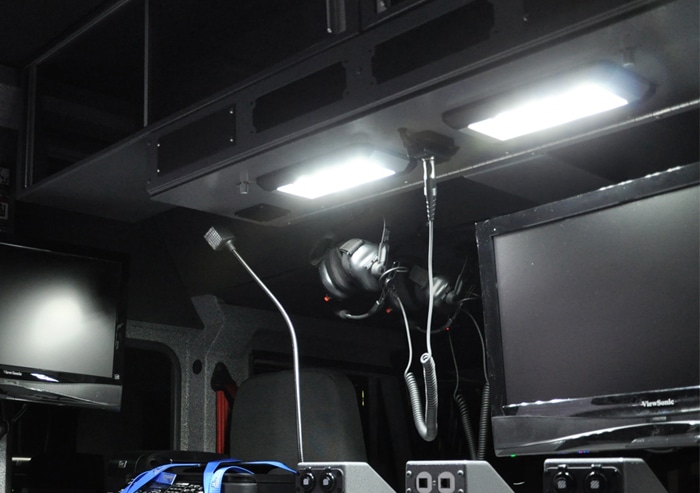 CAB AND INTERIOR LIGHTING
our partners in fire truck lighting
We spec many different manufacturer lighting components. We're proud to work with many fire truck light brands, including these partners below:

REFURBISHED EMERGENCY VEHICLE LIGHTS
SVI Refurb can help upgrade most any used light tower from quartz halogen heads to LED fixtures, giving your light tower more life, too.
KEY NFPA STANDARDS FOR APPARATUS LIGHTING
---
Below, we've highlighted a handful of NFPA standards pertaining to graphics that you may want to take into consideration:
---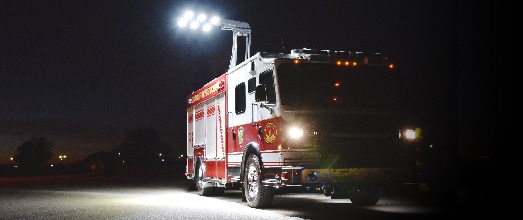 13.10.1.1 WORK AREA LIGHTING

The work area immediately behind the vehicle shall be illuminated to a level of at least 3 fc (30 lx) within a 10 ft × 10 ft (3 m × 3 m) square to the rear of the vehicle.

13.10.1.2 GROUND LIGHTING (BODY ACCESS)

The fire apparatus shall be equipped with lighting that is capable of providing illumination at a minimum level of 2 fc (20 lx) on ground areas within 30 in. (800 mm) of the edge of the apparatus in areas designed for personnel to climb onto the apparatus or descend from the apparatus to the ground level.

13.10.1.3 GROUND LIGHTING (CAB EXITS)

Lighting designed to provide illumination on areas under the driver and crew riding area exits shall be switchable but activated automatically when the exit doors are opened.

13.10.3 SURFACE LIGHTING

The apparatus shall have sufficient lighting to provide a minimum level of 2 fc (20 lx) on all work surfaces, steps, and walkways.

16.9.2 / 4.10.1.1 PUMP PANEL ILLUMINATION

If external illumination is provided, it shall be a minimum of 5 fc (50 lx) on the face of the device.
INTERIOR AND COMPARTMENT LIGHTING
13.10.4 INTERIOR LIGHITNG

The apparatus shall have sufficient lighting to provide an average level of 2 fc (20 lx) at each seating surface in the driving and crew compartments.

13.10.5.1 (ENGINE COMPARTMENT LIGHTING)

Each engine compartment and pump compartment shall have a light of at least 20 candlepower (250 lumens)

13.10.5.3 (TOOL) COMPARTMENT LIGHTING

Each enclosed tool and equipment compartment greater than 4 ft3 (0.1 m3) in volume and having an opening greater than 144 in.2 (92,900 mm2) shall have sufficient compartment lighting to provide a minimum of 2 fc (20 lx) at any location on the floor of the compartment without any shelves, dividers, or equipment in the compartment.
INTERIOR AND COMPARTMENT LIGHTING
One of our lighting partners, Command Light, offers this Light Intensity Study to help you evaluate grouping, placement and height of your lights.
---